Article by Adrian Dickson, Solution Architect and Senior IFS Consultant.
Choosing the right partner to implement your IFS solution is almost as important as selecting the solution itself. It is vital that the partner you choose has the necessary knowledge, skills, and experience to carry out the implementation. The needs of the entire organisation must be considered, particularly as the implementation spans the entire business and encompasses all critical functions and processes at a time when it is imperative that 'business as usual' is maintained.
There's no doubt that the implementation process can be challenging. Embarking on an implementation project is more than simply assembling a team to perform standalone tasks. Success is defined by establishing a clear scope at the outset, remaining on time and within budget while simultaneously managing expectations, responding to change and ultimately meeting the set goals and objectives agreed, all while keeping the customer informed on progress and facilitating user training. There's an intense pressure to get the implementation right, minimise the impact to the business throughout the project and ensure a smooth, successful transition to the new solution.
If that wasn't enough, research conducted by TEC estimates that 50% of ERP implementations fail the first time round. Furthermore, they surmise that the average implementation takes, on average, 30% longer than originally planned and costs 3-4 times more than what was budgeted for at the outset. 65% of the time (or thereabouts), they propose that the time and budget overrun is due to modifications that are required but only come to light after the implementation is underway. These statistics highlight exactly why an implementation project can be challenging.
Achieving the set goals of any IFS implementation requires a robust methodology framework. At Cooper Software, we have always followed our own proprietary methodology which has been developed and refined from our years of experience gained in delivering numerous IFS software solutions for a wide range of customers from single-site operations to multi-site, multi-country companies. Our methodology is used to structure, plan and control the process of implementing IFS, essentially it is the roadmap that guides the entire project.
The Cooper Software IFS Implementation Methodology
A little over a year ago, IFS published details of their own implementation methodology. We took this as an opportunity to consider and review our own process, to ensure that we are in line with IFS' latest thinking and also to be confident that we are offering our IFS customers the most robust implementation methodology possible.
At this point it is important to note that we have obviously always had a methodology! However now, our methodology has been comprehensively reviewed, refined and documented and the blueprint has been used to educate the entire company on the 'Cooper Software Approach'. Fully detailing our methodology, rather than leaving it open to interpretation, or to the preferred approach of individual consultants, has given us the opportunity to bring it in line with the IFS approach and then prove it out on our own projects, in order to continue to shape our individual process.
What's more, our consultants are located the length and breadth of the country, often working across multiple projects, and are all expert within different IFS topic areas. We needed to ensure that everyone was working from the same page. If a particular consultant is drafted in to a project because they are our resident HR expert, they need to know exactly what the project entails, the objectives and desired outcomes, what stage it is currently at, what has happened before, what their role is, what is expected of them and where they can find all the various critical pieces of information that will allow them to do their job and create the necessary outputs required to keep the implementation on track.
Having a robust methodology in place that has been endorsed by the entire team and one that the team is fully committed to delivering against, ensures that there is no confusion. It also empowers our consultants to take ownership of their tasks and allows for the successful management of the implementation process.
The image below shows IFS' own Implementation Methodology. There are 5 clear stages with each stage broken down into various steps which must be worked through in sequence: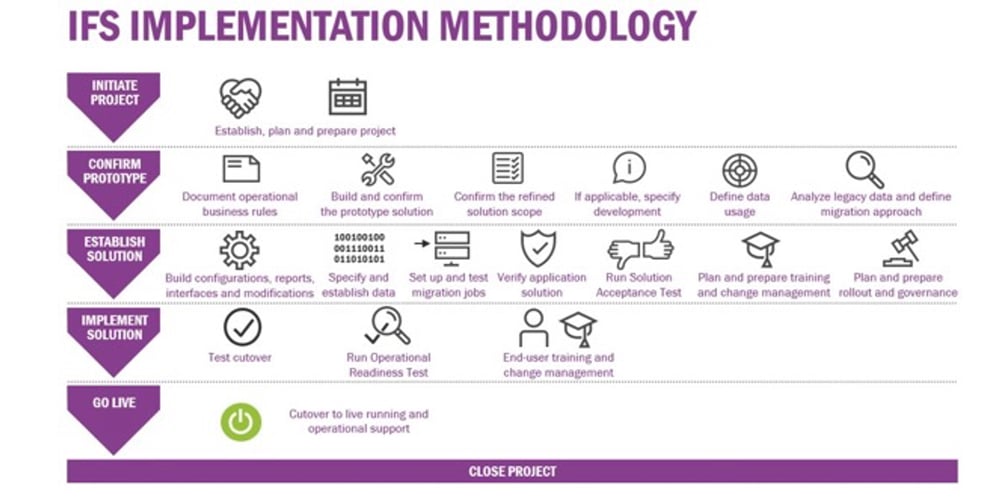 The following image shows the Cooper Software Implementation Methodology. You'll notice that although similar, we have 6 clear stages with the sequential steps outlined against each stage: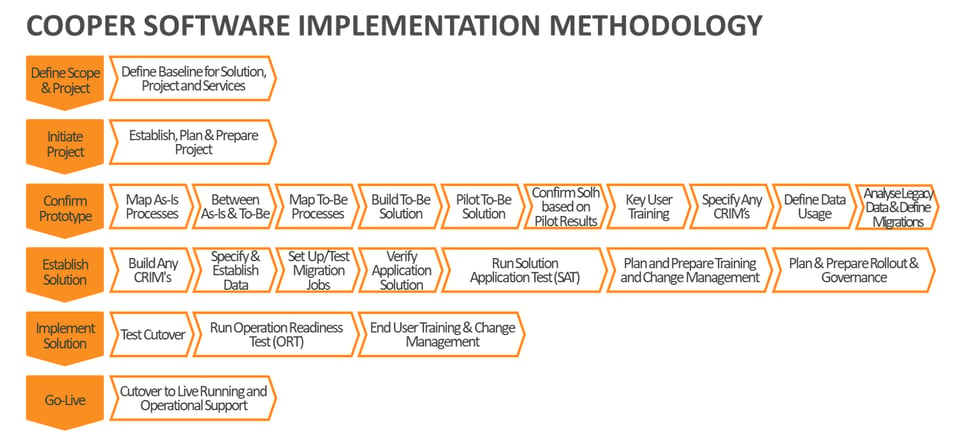 While our methodology is based on the IFS approach to ensure consistency, it does recognise that Cooper Software and IFS are markedly different in terms of resource we have available, the customers we engage with and the projects we work on. We have therefore been pragmatic with our approach. Our methodology also complies with our ISO 9001 accreditation and our Project Delivery Charter (PDC). The PDC provides a gated delivery process to ensure all stakeholders are clear on what will be built and delivered, how this will be accepted and tested by the business, what deliverables customers can expect from Cooper Software and, conversely, what we require from our customers. The PDC also clearly outlines both the project controls and roles and key responsibilities for each work package.
While we follow similar stages and steps to the IFS Implementation Methodology, we have included an additional pre-sales stage: 'Define Scope and Project'. What happens during this stage largely depends on whether a Business Information Review, or BIR, has been carried out.
Our bespoke BIR process has been developed following years of using our 'best practice' approach. Conducted by our specialist consulting team in full partnership with the customer, the overriding aim of a BIR is to align an organisations overall business goals with their IT requirements in order to create a systems roadmap and solution for the business.
A BIR considers the solutions currently used, both in terms of the individual systems and processes they manage. We then look for any gaps in the current set-up. This is followed by a review of the market, the needs and wants of the customer, as well as what their competitors currently offer. We then consider the external and internal interfaces used, including data sharing and any interaction with third parties. We also review plans for disaster recovery, succession planning and controlled change management.
The BIR provides a detailed summary analysis of the current system, processes and requirements which will influence the design of a solution in line with the customer's business needs. It facilitates the creation of a bespoke document which identifies key business objectives, measurable success factors, recommended system features, implementation schedule and outline costs. The project is broken down into key stages and tasks, with short term objectives and results. Working through a BIR creates a business case for the project while the risk of embarking on a project which does not meet the needs of your business is significantly reduced, saving time and money.
If we have conducted a BIR, then the early stages can be skipped, as most of the scoping has been carried out already, as is illustrated in the image below: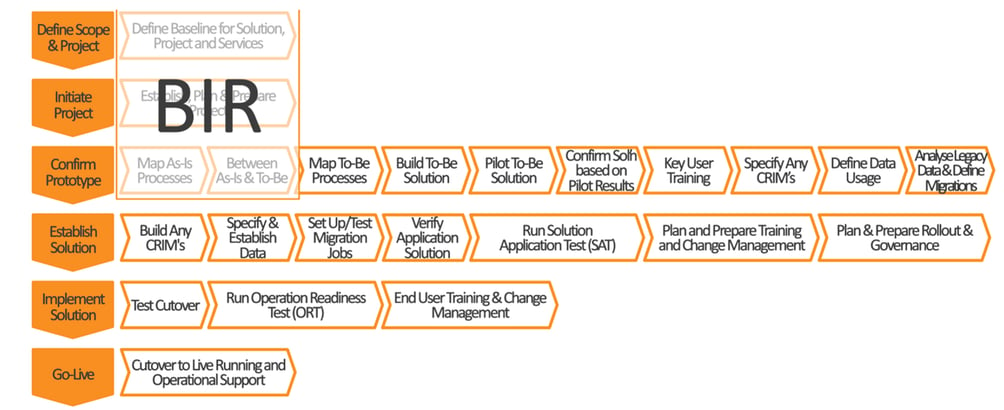 We have also added in additional steps to the 'Confirm Prototype' stage. During this stage, following our approach, we have broken down 'Document Operational Business Rules' and 'Build and Confirm the Prototype Solution' into additional steps which look at clearly mapping, building, piloting and building the 'as is' and 'to be' processes. We have also overtly highlighted key user training as a step, rather than it being implied, as is the case within the IFS methodology.
Utilising Implementation Tools
To assist our methodology, we have access to certain tools and templates, some developed by IFS, some by ourselves, which help to speed up certain elements of the processes which in the past were done manually. The first is the IFS Scope Tool which is a dedicated piece of software, developed by IFS. The Scope Tool essentially provides a toolkit for defining what parts of IFS are in and out of scope. It is a powerful tool due to the outputs it provides.
Firstly, a consultant can complete a series of questions, almost like a project questionnaire, which is then fed into the Scope Tool. The Scope Tool is then used to further model the processes used in IFS – identifying which modules and elements are in or out of scope. It is then used to generate various outputs.
A 100-page or so Solution Overview report can be created which acts as a starting point for confirming the solution. This document can be edited as necessary to further tailor it to the customer. At Cooper Software, at the beginning of every project, we have always written a similar style of document from scratch (we call it our Solution Outline Document) so that it is fully tailored to a customer's individual needs and requirements, allowing us to
develop an in-depth analysis of their needs and wants. Despite the Scope Tool being available to automate much of this, we feel that another output from the Scope Tool is more useful due to its interactive nature.
This second aspect of the Scope Tool – and the one which we consider to be much more effective and gives us a greater level of interaction with our customers – is its ability to output a comprehensive html flow chart, which we find to be particularly powerful. The chart takes the form of a web page which provides a visual representation of how the customer's requirements fit into the IFS standard application. The customer also has the opportunity to access this at any time. The chart is fully interactive, offering the ability to drill down into each level to see the detail, read IFS' own guidance on each stage, and even launch the relevant part of IFS. We have especially utilised this element of the Scope Tool as it allows us to easily develop a project flow and really understand what is required and also what is not.
Thirdly, the Scope Tool also outputs a data tracker so you can identify, based on what's in and out of scope, what data you need to set up (for instance basic, master and dynamic). It really is providing to be an invaluable solution to aid our methodology.
As well as using the Scope Tool, we have also developed a tool of our own for consultants to use when working through the steps associated with each stage. Highlighted in the methodology diagram above are the various stages and associated steps that our consultants must work though at every stage. Within each step we have compiled a list of key considerations for consultants to answer before they embark on that particular step:
Inputs
What are the key inputs into the step?
What are the tools we will use in this step?
What education, if any, is delivered (by us) or received (from the customer) in this step?
Which IFS environment, if any, will be used in this step?
What are the key outputs from this step?
What needs to be delivered and agreed before moving to the next step?
What are the issues to be aware of in this step? How can we learn from past projects to inform this step?
Clicking on a stage, will bring up the first step in that stage. Clicking on the first step will then present a list of the materials related to the 7 consideration areas above. For example, the inputs will refer to other documentation which should be read, the IFS tools which are to be used will be listed. The education to be delivered or received will be highlighted. The consultant will know which IFS environment they should use. A list of key outputs for that step will also be given alongside the gates and potential issues will be flagged.
This process is repeated for every single step across all 6 stages of the implementation methodology process. Ultimately, the tool allows any consultant to come into the project, perhaps without any prior involvement and understand exactly what is required alongside the appropriate information. Having a tool such as this brings greater efficiency to the process, simplicity and ultimately saves save time and guarantee ownership of tasks, leaving consultants with a feeling of empowerment.
We are also reviewing our existing standardised templates, such as solution specifications, delivery documents and user guides, again to ensure consistency and guarantee that our consultants are all working from the same documentation. We want complete confidence that all customers are receiving documents which follow the same structure and contain the same high level of detail that as standard.
Our Methodology in Practice
Since consolidating our methodology, we have been piloting it on 3 IFS implementation
projects – Wellman International, Gordon & MacPhail and Scot JCB. As we progress through each project stage we have constantly been evaluating and generating feedback to see what's working and what's not and where we can facilitate change.
We view our methodology as a constantly evolving process. We consider where we are
right now to be our current 'work in practice' of how best to implement a project. We are working to continuously evolve our approach to stay ahead of market trends and are actively applying new learning from every implementation we complete to build, shape and develop our methodology, to deliver more consistent implementations that are on time, on budget and meet the objectives stated at the outset.