When we embarked on our journey developing ACQUIRE, well over a decade ago, we took a lot of time to engage with our customers to understand their requirements from both a functional and an ownership perspective. This engagement in the endless variety of data capture requirements has seen us develop a number of bespoke solutions, each tailored precisely to the customers' requirements.
This deep pool of knowledge, of both the key requirements and the IFS application landscape, has allowed us to keep up with the needs of our customers and the ever changing technology landscape within which we all operate. Continuing to improve and refine ACQUIRE, now 4th generation software, we have re-engineered, taking a greenfield design approach and employing the latest modern technologies – Ionic, Cordova and .Net Core – to seamlessly integrate the full gamut of mobile devices (Android and iOS) with all versions of IFS, including the latest versions of Apps 10.
Now building for the long term, this modern tech stack has allowed us to create a platform that is intuitive for the user, easily tailored and rapidly deployed, delivering value for our customers at the minimum of expense. To this end, we have developed a library of 'off-the-peg' Acquire transactions covering all areas of the operational business.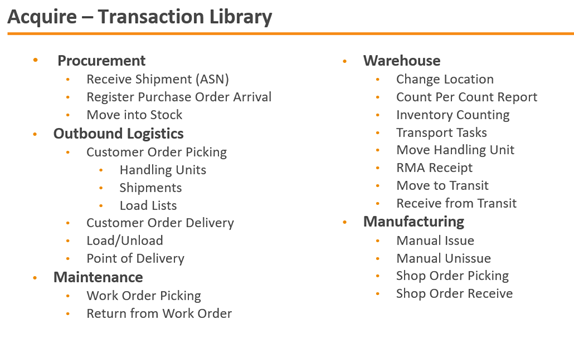 There are a number of variants of the common transactions so once you have found a close match for your needs, our modular approach and component driven design mean we can then adjust to suit your particular requirements with the minimum of additional development.
Seamlessly linking your warehouse data capture processes with IFS is only your starter for 10, we also have extensive experience integrating both peripheral hardware (weigh scales and label printing) and full Electronic Data Interchange (EDI) including Advanced Shipping Notices (ASN's) for both receipt and despatch of goods and seamless integration with specialist carriers such as UPS, FedEx, Palletways and Whistl – eliminating the need for manual entry to the shipper's system which could be a massive competitive advantage post-Brexit.
If you would like to know more on how ACQUIRE can save you time and money, don't hesitate to give our experts a call!