Manufacturing and distribution companies face challenges throughout their supply chain and at all stages, visibility is a key objective. According to the latest GEODIS Supply Chain worldwide survey, the issue rose from the sixth most important strategic priority in 2015 to third but noted that only 6% of firms said they had achieved it.
The survey, which considered the views of 623 supply chain professionals across 17 countries, found 57% of respondents considered their supply chain to be a competitive advantage that would enable the development of their company.
Warehouse management is a key element of the supply chain and is primarily concerned with controlling the movement and storage of goods in and out. In order to fully optimise the receipt, storage, picking and outbound delivery of goods, real-time actionable data is required and having a warehouse management solution in place, provides an important way to track goods across every stage, ensuring there is accurate, up to date information available at all times.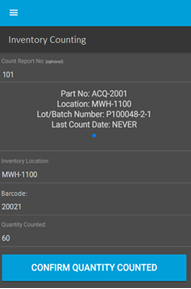 Cooper Software's ACQUIRE, is a robust data-capture, automation and barcoding solution, offering transactions that support manufacturing companies across all areas of warehousing and inventory management.
Seamlessly integrated with IFS, ACQUIRE streamlines the logistical processes, providing traceability and visibility at all times throughout the supply chain.
Now available on iOS and Android devices with standard transactions covering procurement, inventory, warehousing, outbound logistics and supply chain integration, ACQUIRE also supports automation and integration for both suppliers, customers and freight forwarders, including send and receipt of advanced shipping notices, automated creation of consignments and shipping documentation/labels.
Over a decade from inception, ACQUIRE has evolved massively, originally a single picking process transaction for one customer, we now have a full suite of transactions and an ever growing customer base with clients including BAE SYSTEMS, Farrow & Ball, Polypipe, EPS, Butcher's Pet Care and Eminox.
Next time out, we will look in more detail at how ACQUIRE can add value to your organisation. Modular design has allowed us to create standard variations on common transactions so that no matter how individual your needs, we can meet your requirements with as 'standard' a product as possible.